Welcome to the Hollis Group Research page!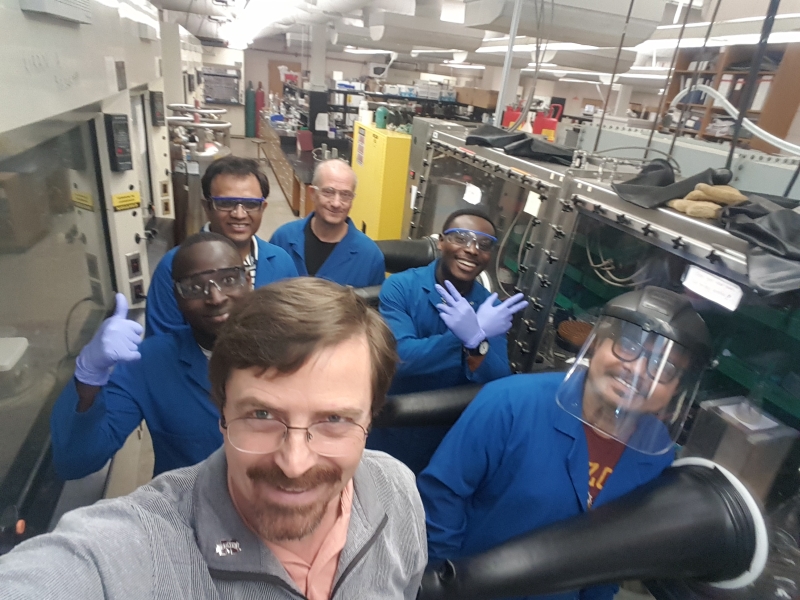 Early morning synthesis crew having fun!
(l to r, f to b)Professor Hollis, Dr. Sriloy Dey, Mr. Joshua Mensah, Mr. Enock Amoateng, Dr. Kiran Adiraju, Mr. Bruno Donnadieu

The Hollis Times
Professor Hollis will attend POLYMAT 2015 in October as an invited international speaker for Session 4. - Organometallic Chemistry and Catalysis. Link

Professor Hollis, Sean Reilly, and Wesley Clark presented research at the Midwest Regional Meeting of the American Chemical Society (MWRM) (2014.11)


Publication of "1,4-Addition of aryl boronic acids to a,b- unsaturated ketones catalyzed by a CCC-NHC pincer rhodium complex," in Tetrahedron Letters. (TETL-D-14-01639R2) in press (TETL_45201), DOI: 10.1016/j.tetlet.2014.09.107.


Theodore Helgert obtains a postdoctoral research position at Argonne National Laoratories! (2014.08)